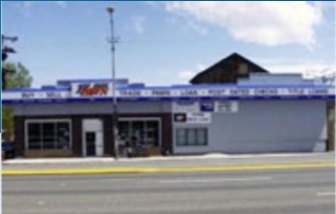 It was 1984. My father introduced me to an abandon building on the corner of 6th South and State Street in the heart of downtown Salt Lake City and told me of his plan and desire to start a pawn shop.
A short time later, while in high school, my father asked me to quit my job at the hardware store and work for him after school. Together, along with the help of many others, the business grew to five stores. Rothchilds Sales & Loan became Utah 's largest, most successful pawn shop chain.
My father enjoyed the pawn business almost as much as he enjoyed having his family, including five boys, working with him. Being of one the oldest brothers, I managed the West Valley City store from start-up to profitability. In the years that followed many events transpired providing positive growth opportunities which were both challenging and exciting.
Before my father passed away Rothchilds Sales & Loan had already caught the attention of many large pawn shop franchises outside of Utah . However, it wasn't until after his death that the decision to sell the business was made.
After fifteen exciting years in the pawn business I decided to look for a new challenge. However, it seemed like I was continually drawn back to my experience in the pawn business. After a day of snowmobiling in the Rocky Mountains, a couple of guys who knew of the success of our former chain of pawn shops, and recognized the business potential of the pawn business, provided me with the extra help and encouragement.
My partners and I introduced 1st Cash Sales & Loan, based on the same principles and ideals of the former Rothchilds. Incorporating cutting edge pawn broker philosophy 1st Cash quickly gained momentum, even in an already competitive market.
It wouldn't be true to say I know of no other business. I began a career as a stock trader and trader of mutual funds. However, it is true that I personally know of no other business that is as much fun and provides as much variety. Along with the ability to make loans to people, a pawn broker has to be a good negotiator, an expert appraiser, a jeweler, gun dealer, loan processor, retailer and among other things, a business manager.
As times change many things remain the same. Honesty and integrity are fundamental and key ingredients to success. Regardless of how pawn shops are perceived, they indeed fulfill a niche in the community. Often called "the world's second oldest profession", pawnbroking finds its roots as far back as three thousand years ago in ancient China . The settlement of America began with pawnbroking as the only lending system. Queen Elizabeth pawned her crowned jewels so as to pay for Columbus voyage to the Americas.
The common misunderstanding of the pawn business is understandable given many people's limited knowledge of the business. Unless someone has been introduced to pawning at some point, the tendency of many people is to believe the way the pawn industry has been portrayed by the movie industry.
1st Cash Sales & Loan opened for business May 22, 1989. The name 1st cash was chosen to represent the first convenient and logical way to acquire cash for short-term monetary needs. The average person has probably never considered pawning as a way to obtain needed cash. However, people in all economic conditions need money from time to time - some just require more than others.
Pawn shops have been around for a long time and it isn't likely that they are going away. However, they have become more user friendly. Still, many people are not concerned about that. They just like to find bargains on quality one of a kind and often times unusual items.
Troy Thompson, Owner